Are you in York Pennsylvania and have extra diabetic test strips or other supplies to sell? We are now offering local pick up in York Pennsylvania. We will come to you and pay you cash for your extra diabetic test strips.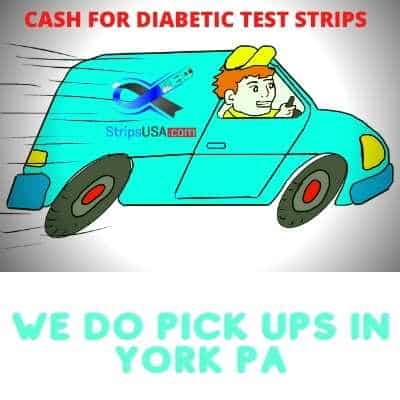 We are the highest paying test strips buyer around and we pay cash on the spot.
If you live in York PA and want to get cash for your extra diabetic supplies we can come to you and pay cash. We usually can pick up your supplies within 48 hours. 
We pick up all the major brands such as OneTouch Ultra Blue, AccuChek Aviva Plus, Freestyle Lite, Smartview and Contour.
We also buy Dexcom Sensors, Dexcom Transmitters, Omnipods, glucometers and diabetic lancets.
Call 443-960-0979 for pricing and to schedule a pick up
Put Cash in your pocket while helping uninsured and under insured diabetics get the testing supplies they need.
[testimonial_rotator id=1018]