Sell Dexcom G6 Sensors, Omnipods and Other Diabetic Supplies
If you are looking to sell Dexcom Sensors or other supplies you came to the right place! Testing supplies are in high demand. Do you or someone you know have extra diabetes testing or pump supplies that you no longer need? Has your brand of testing supplies been changed and you have leftovers from your old brand? Are you a former gestational diabetic that no longer needs supplies? Sell them to Strips USA and put money in your pocket while helping get diabetic supplies to those in need.
See What We Pay For Dexcom And More
We are looking to pay you top dollar for your excess Dexcom and other diabetes testing supplies
Our process is quick and easy. Just fill out the form and request a pre-paid mailing label to be emailed to you or a pre-paid shipping kit that will be mailed to you complete with a box and prepaid mailing label. Once we receive your shipment we will pay you with with a business check or PayPal. (Your choice)
Sell Dexcom G6, G4/5 sensors, Dexcom Transmitters, Omnipods and other diabetic supplies. We are also now buying Quicksets, Freestyle Libre and more. See prices that we pay for diabetic supplies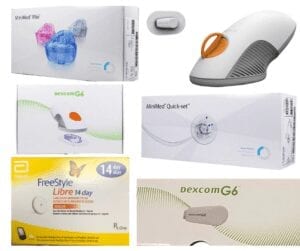 We have worked within the secondary market for diabetic supplies for many years and have built a reputation for honesty and integrity. The price that we quote is the price that you will get and we have the fastest process in the industry.
We are a leading buyer of surplus medical and diabetic supplies. We buy diabetic test strips, lancets, dexcom sensors, transmitters omnipods and more.